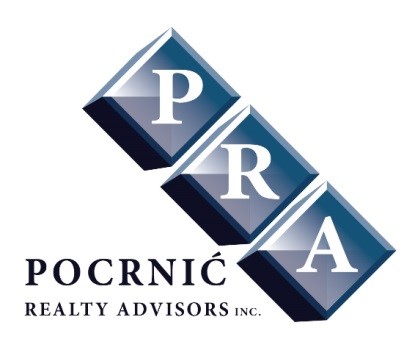 Founded in 1998, Pocrnic Realty Advisors Inc. (PRA) is a full service Commercial Real Estate firm offering professional services, and the convenience of one stop shopping with accredited professionals in the fields of Appraisal, Assessment, Brokerage, Mortgages and Asset Management. PRA houses a diversity of expertise under one roof. The result is value-added services; a comprehensive information base; and a unique and advantageous perspective on the real estate market. Our firm offers a robust variety of Residential and Commercial Appraisal possibilities.
We currently have an opening for a full-time Property Tax Consultant.
The Job Description
Responsible for providing a variety of property assessment and tax consulting services for all types of projects to new and existing clients;
Act as a liaison for matters before the Assessment Review Board;
Continuously upgrade knowledge regarding market and industry trends, property assessment and taxation practices and procedures and legislation;
Manage client relationships in a matter that leads to contract renewal, referrals and service expansion including up-sells and cross-sells;
Maintain ongoing client communication while resolving issues expeditiously and escalating issues to next level of management as appropriate;
Ensure data collected as part of ongoing assignments as entered accurately into PRA database in a timely fashion;
Work to develop strategies to effectively manage client relationships and to explore additional opportunities for all PRA business units;
Prepare and deliver high impact client presentations and well-reasoned comprehensive property reports with recommendations;
Conduct regular follow-up meetings and project debriefs with clients to ensure high levels of satisfaction and to identify areas for continuous improvement as well as additional services required;
Actively participate in the marketing initiatives and proactively inform Management of potential new assignments or marketing leads.
The Ideal Candidate
Is a team player with a proven work ethic, self-motivated and able to work independently;
Must have exceptional standards and a high level of professionalism;
Must be organized, able to prioritize and multi-task, and have good time management skills to be able to meet tight turnaround times;
Excellent verbal and written communication skills with acute attention to detail and fluency in English at the university level;
Strong interpersonal skills and the ability to interrelate successfully with co-workers, clients and marketplace participantswith a natural desire to grow within the company and industry;
Excellent computer skills including research, quantitative and analytical skills.
The Requirements
University Degree in a complementary discipline along with a Paralegal License with the Law Society of Ontario;
3-5 years of related experience in property assessment, taxation and appraisal;
Appropriate designation or willingness to pursue designation with the Institute of Municipal Assessors, the Appraisal Institute of Canada or a similar recognized real estate association;
Excellent knowledge of property assessment practices, policies and procedures, along with legislative requirements (Assessment Act and Assessment Review Boards Rules of Practice and Procedures.
PRA offers a strong mentorship with competitive compensation and an excellent working environment as part of a team of talented individuals
Please forward cover letter and resume in confidence to Virginia Rowe at vrowe@pracommercial.com.
We thank all applicants for their interest in this position, however, only those selected for interviews will be contacted. Please note that we do not accept phone or email inquiries in regards to open position.